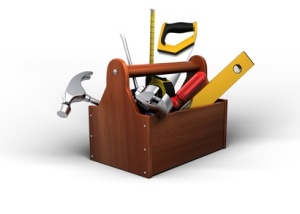 We all have wasted countless hours mining the internet using Google to find that right application, online tool or service.  Once we find a handful of potential options we then experiment with a trial or limited editions to only find it wasn't exactly what we were needing.
If you want to do business on the internet, look no further!  I want to share what I use regularly or has been referred by someone I trust.  It's so beneficial when we help each other and my goal is to help you save the one thing you can't get back and that's TIME.  But equally important is quality.
Any organization doing business on the internet needs a handful of tools and resources.  For example, and at a minimum, everyone needs some form of hosting, email marketing and perhaps outsourced work.
Remember, this page is for you and these suggestions are by all means not your only option.  If you find something that is better please use it.
Disclaimer: Some of the suggested links are affiliate links and that I may make a small commission if you decide to make a purchase.  Keep in mind, there are no additional costs to you.  I currently use or have used each suggestions below.  I support what they offer and believe they could be of  benefit to you.  By all means, please only purchase an item if you too believe the same.
GoDaddy – I've have used several hosting providers and have ultimately moved everything to GoDaddy. What I like best about GoDaddy is there flexibility from a one-click install of WordPress to managing multiple WordPress sites on one hosting package. Finally, their customer support is 24/7 and they've always been responsive and helpful. Check out my free tutorial on Create GoDaddy WordPress Site from Scratch to get your first WordPress site up and running in minutes.
UptimeRobot – Here is another must have to always know when your sites are up or not. Completely configurable, UptimeRobot will text or email you when one of your sites are offline. A down site is not about a lost transaction but rather a lost relationship.
WordPress.org – I've used quite a few Content Management Systems (CMS) and hands down WordPress is the best for many basic sites. There are many reasons why but ultimately its the ease of use and the community behind it. Take a look at my Top WordPress Plugins.

ThemeForest – At ThemeForest you'll have more options than you can imagine. Remember, popularity and user feedback is super important in knowing if the theme is right for you and can be held to high standards. Lastly, think 'Responsive Designs'!
Hatchwise – Need a logo or a graphic design? Hatchwise is the place. If you haven't noticed I'm all about bang for the buck and they've got it.

Fotolia – If there is one thing we always need for our sites it's graphics. Fotolia has more than enough royalty free images to choose from and for any budget. What I like best is the ability to buy on-demand without a subscription.
Email Marketing and Social Networking

AWeber – The first step after creating any site is start building your email list. Aweber is certainly one of the best to help you with just that. Email addresses are important because they are the only method you own for communicating with your visitors. Schedule your auto-responders and begin building relationships that last.
HootSuite – In order to be effective with social media it's important to automate as much as you can. HootSuite does just that.  Schedule, monitor and analyze and  social media posts for Facebook, Twitter, Google+, LinkedIn and more.
oDesk, Fiverr and Elance – Are you overwhelmed or don't have the skillset, try one of these as a immediate solution to completing a task. These are great options when you need a developer, designer, copywriter or marketing specialist, to name a few.
Virtual Staff Finder – How about a more permanent solution when you need additional resources. Virtual Staff Finder helps you find an assistant who can help with Administrative Tasks, Social Media and Email Management, Website Management or Receptionist Duties.
Clickbank – If you have something to sell Clickbank has what you need. Not to mention their Affiliate Program is pretty nice.
PayPal – Everyone knows PayPal. You'll need them as your payment processor.
Long Tail Pro – Long Tail Pro does have some design issues but is hands down the most feature rich keyword research tool out there. Definitely a must have in buying domain names, building niche sites or creating valuable content. What makes Long Tail Pro so great is the keyword competition rating.
Lean Domain Search – Probably the most basic tool listed here but certainly one I like. Lean Domain Search takes a number of key words and finds various combinations. This is really helpful when that desired domain name is taken.
Office 365 for Business – Office 365 is, in my opinion, the only way to do business but not to mention will take team collaboration to a new whole new level. Office 365 for Business offers 50 GB of Exchange Email, 1 TB of OneDrive Cloud storage (soon to be unlimited), latest version of SharePoint and latest version of Microsoft Office Professional. Yes, all that for a crazy low price. I know many say they have Google Drive but the only thing I have found better is the file synchronization app.
Dropbox – Dropbox is another great one for team collaboration. What makes Dropbox stand apart is the ability to quickly add a file that is available publicly. No folder permissions, no file permissions and no managing users. Simply copy to your Dropbox folder, get the link then share. If you want to learn more, check out my post, "What is Dropbox?"
Skype – Skype combined with the Pamela recorder is without a doubt the best way to communicate remotely. Not only can you chat, speak and share screens but you can make phone calls as well.
Mindomo – Ever have a hard time trying to get your thoughts organized or document a brainstorm session? My favorite is using Mindomo as a Mind Mapping tool on just about everything I do. Every plan begins with a great mind map.
LegalZoom – We all need to make sure everything is done right. LegalZoom does a lot but most importantly they can help you form your organization.