Working from home, I can say I use Skype a whole lot.  In fact it is probably my number one source of communication for chat and calls considering I work with people all over the world.  Runner up would probably be Pidgin.
Error Message
Tonight, and of course while trying to troubleshoot something with a fellow developer, Skype decided to stop working.  Having no issues and after chatting for 30 minutes or so I proceeded to Skype call this person.  It was then I received the pop-up window with the error message of "Skype has stopped working".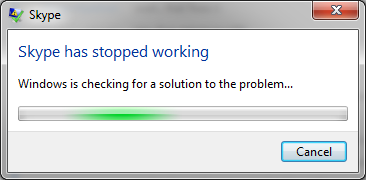 The Facts
Windows 7 64-bit
Skype v5.5.59.124 (as of this incident)
Most recent Skype call was yesterday morning.
Have chatted regularly with no issues.
No Windows Update, no reboots and really no change in open or closed applications.
From that point forward; regardless of any adjustments I could make in Skype, it proceeded to crash at will as soon as I opened a new or previous conversation.
Troubleshooting Steps
*Before continuing be sure to back up your contacts from the contacts menu.  Worst case you do not want to lose your contacts.
Solution Summary
I only had success for Troubleshooting steps 3 and 4.  However I chose to stick with step 4 since for work and historical purposes I prefer to retain history.  Although I admit I'm a bit stumped as to what happened and why.  I tried to determine if there had been any silent updates by Skype but cannot find an related documentation.  At best, according to OldApps.com Skype's most recent updates are:
Skype 5.7.0.123 (Beta) – Nov. 17th, 2011
Skype 5.5.0.124 – Oct. 13th, 2011
Skype 5.6.0.110 – Oct. 13th, 2011
I'm not exactly certain what we can take from this considering my version was 5.5.59.124.  Perhaps at best there have been no major updates since October or at least last night.
/htmlhistory
If you did not know, in a conversation (chat) window you can type /htmlhistory and press enter.  The entire chat will open in your default browser where you can them click File –> Save Page As.  Probably my least favorite feature of Skype as there is no effective way to back up and restore conversations.